Colonnades have been used in architecture throughout human history, defining places that bring people together. From temples to markets, town halls to palaces – the idea of creating functional spaces within and adjacent to these permeable structures is as old as civilisation itself.
'Colonnade' by KI brings this human-centred design to the open-plan office by creating collaborative, user-controlled, activity-based work settings – quickly, sustainably, and cost-effectively.
The ongoing impact of COVID-19 has turbo-charged the widespread adaptation to remote working across society. Until recently thought of as a privilege confined to specific companies or industry sectors, it has now become the overwhelming norm. Over the course of 2020, even the most sceptical have come to accept that working from home can offer fantastic advantages – particularly when undertaking focused, individual tasks. What then becomes the role of our traditional office environments in the wake of this pandemic, if not to be our primary, daily destination for work?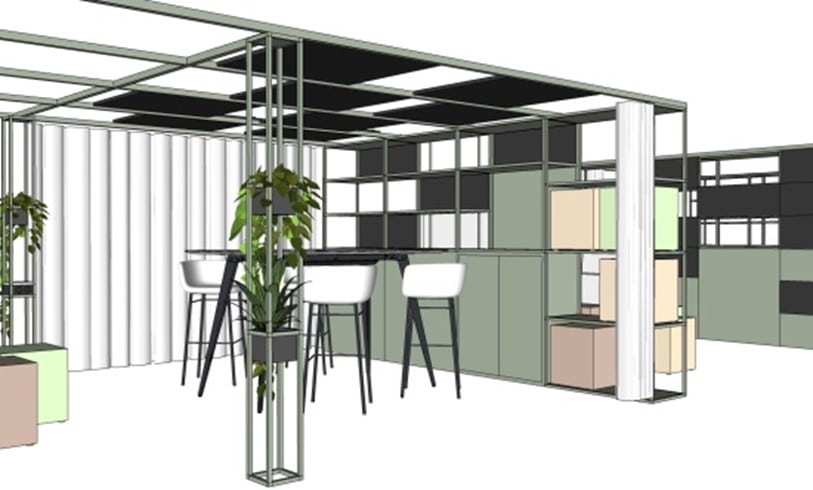 Organisations that have historically embraced flexible and remote working pre-pandemic have long understood the challenges and advantages of supporting this hybrid model. Its consequences on their evolving workplace strategies have been clear – less emphasis on traditional workstations; more flexible, multipurpose and collaborative work settings. Now, all organisations will need to accelerate efforts to ensure their spaces are fit-for-purpose in a post-COVID world beyond the immediate considerations of hygiene and social distancing.
'Colonnade' was co-created in partnership with one of KI's largest clients to help transform their workplace experience. Redefining the traditional open plan office to be more inclusive, collaborative and flexible, it is centred around the concept of user control.
The system can help support a neurodiverse workforce – rather than expecting users to struggle and adapt to a rigid workspace, it allows them to quickly adapt the workspace to suit their unique needs. Readily integrating into new or existing space plans, Colonnade can help manage visual and auditory sensory stimuli, often cited as a major drawback of open plan spaces for both neurodiverse and neurotypical individuals.
This highly customisable, free-standing modular system utilises a series of simple steel and aluminium components that are made for 'hacking'.
Anchored by 800 Series Storage and Modular Shelving, the stanchions and gantry system can support all sorts of accessories, flexible furniture and equipment to make collaborative working better – from mobile whiteboards & pin boards, to TV screens, tables, mobile soft seating, power, lighting and acoustic treatments. Additionally, it can be installed as new, or retrofitted to existing KI storage, reducing waste, and giving a new lease of life to KI's extensive installed base.